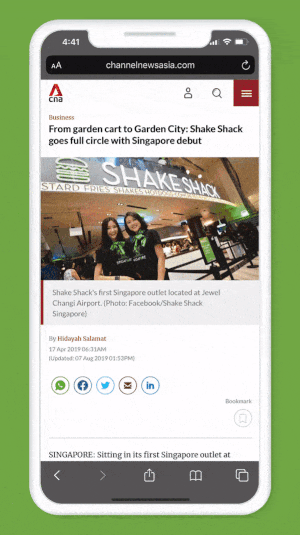 experiential launch campaign | graphic design | influencer strategy and engagement
the challenge
how can shake shack set itself apart from other burger chains in a city already known as a gourmet getaway?
the approach
we created a campaign that branded shake shack as the gourmet that got away, teasing its arrival on singapore shores. the campaign culminated in the iconic housewarming party at the shack – one that let us go the extra mile to be, well, extra.
the experience
themed "ready, shack, go", the entire campaign was centred around shake shack's arrival on singapore shores, with the use of localised icons such as the merlion and other travel-themed icons to build the campaign narrative. the store launch experience saw a cornucopia of local talents such as dancers, street drummers, multimedia and technology coming together to break the sleepy silence of Jewel (coincidentally located within singapore's changi international airport). all that buzz and energy peaked at the shack cheer that opened the doors of shake shack to southeast asia, and that's probably what turned the selfies into sales, if anyone asks.